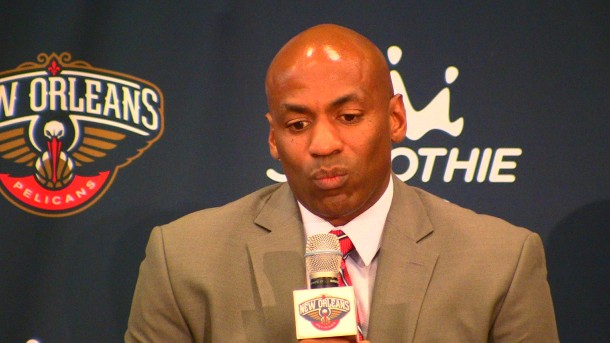 If you can't tell by now that the plan is to go with this roster this year and then make a pitch for Kevin Durant next summer, then you aren't watching. While the Pelicans fan base seems to think it is a long shot at best (and who can blame them?), Dell Demps and his staff appear poised to take a swing next summer at the NBA's top free agent. Listen closely and you will hear Alvin Gentry talking about how he believes free agents would like to play here. Tune into Sirius radio and you will hear Joel Meyers mentioning KD to New Orleans is a possibility. Prepare to hear players talk about how fun it is to play in Gentry's scheme over the next few months and watch for AD to buddy up with Durant at Team USA practice in a few weeks.
While New Orleans has never lured a free agent like Durant (few have), that should not prevent them from taking a shot. The free agent landscape is changing, as market no longer dictates who gets the superstars. Today, you can be just as big of a star playing in Wisconsin or Oklahoma as you can in California or New York, so when players move they often prioritize factors other than size of market. To bring your brand to the next level, you need to win titles and players see that clearly now. With that in mind, the Pelicans' pitch to any free agent must center around AD — who most believe will dominate the NBA for the next decade, and who practically guarantees the team will be at the very least a contender.
I have already detailed how the Pelicans can make their best pitch to Kevin Durant, so I won't go back there. Nor will I try to convince any non believers that it's possible. History says it's unlikely, but the day your GM stops chasing the unlikely is the day you should stop being a fan. A move is only likely if other teams lack interest in a player. Are those the kinds of players you want Dell Demps to go after? Greatness requires taking chances and accomplishing things others say you can't do. Kevin Durant + AD = a potential dynasty, so Dell has to take that risk. But what if he swings…and misses?
Dell's Backup Options
1. The Pre-Swing Swing
It's early February and the Pelicans are looking good enough to contend with a small upgrade, and all of a sudden Carmelo Anthony, DeMarcus Cousins, Chandler Parsons, and Rudy Gay are on the block. They can be had for some combination of expiring contracts, future picks, and maybe a guy at a similar position who the Pelicans would no longer need once they acquired said player. Do you take the sure thing and forgo the opportunity to pitch yourself to Durant?
This is a question Dell might have to ask himself in a few months, and it will be hard to bypass on a sure thing for something that will still be unlikely at the time. Durant may not even know where he is going yet. If you would have asked LaMarcus Aldridge back in February where he'd be playing in 2016, his response would have been "Portland," and he would have believed it wholeheartedly. But then his team went into a tailspin, got waxed in the playoffs, and months later he barely even considered staying. Durant likely won't be open to swapping teams until after OKC is jettisoned from the playoffs yet again, so the idea of KD sending back door signals to Dell or anyone else before the trade deadline is unlikely.
With the cap going way up, teams could be clearing longer term contracts to get into the race for free agents, or teams that are optimistic about their chances right now could find themselves considering a rebuild if a few things go wrong between now and February. Some names we aren't even considering could become available in situations like that. What if Tobias Harris feuds with Scott Skiles again, or the Warriors know Harrison Barnes will demand a max contract in the following summer and don't want to pay that? None of the players will be as good as Durant, but maybe they allow you to keep more pieces in place. Does Dell play his hand early and not risk a showdown where he could miss out all together?
2. Running It Back Again, and Again, and Again
Maybe we have it all wrong. Most see the Pelicans as a bunch of misfit pieces and no surefire second star behind Anthony Davis — but maybe that was just the case under Monty Williams. Perhaps we see this exact team take off now that Alvin Gentry and Darren Erman can utilize them as Dell intended when he constructed this roster.
Let's go back just one short season ago. Who was the Golden State Warriors surefire second star? Try to forget the Warriors we just saw win a championship and remember how they were perceived in July of 2014. Stephen Curry was certainly on his way to superstardom, but Klay Thompson had posted a below average PER (14.3); Draymond Green was seen as a 6th man at best; Harrison Barnes was a bust, if not for one nice playoff series his rookie year against San Antonio; Andrew Bogut was injury-prone, and Andre Iguodala looked like one of the worst free agent signings of 2013.
Seriously, I am not making any of that up; It's not hyperbole. You would have asked people who their second best player was one year ago, and the answer might have been David Lee. Oh, how quickly things can change in a year with a new system. Gentry came in with Kerr and opened up the offense, putting guys in the right situations and all of a sudden Draymond Green is a max player, Andre Iguodala is the Finals MVP and Klay Thompson is an All-Star. Heck, even Harrison Barnes looks like a potential stud, and Leandro Barbosa and Shaun Livingston's careers are rejuvenated.
What if Gentry has that same effect here in New Orleans? What if we get the old Ryan Anderson back, or a version close to the Clippers' Eric Gordon? What if Tyreke really does take off in this new system and Jrue makes a leap like Steve Nash did? What if the new system gets the same production from Asik that he had in Houston? If all these things happen, combined with Davis' continued ascension, is this not a championship roster already? Would there be any need to break it up? Having full Bird Rights, the Pelicans can re-sign Gordon and Anderson next summer, and then re-sign Holiday and Evans the year after that without ever really risking going into the luxury tax.
They can keep this continuity train going, adding low-cost rookies and mid-level exception rotation players every year while keeping their core together. Again, try to think about what this core could be, not necessarily what it has been. Tyreke and Jrue are just hitting their prime while AD isn't even there yet. Gordon and Anderson are in their prime and probably have a good 5-7 years left if they stay healthy, as does Quincy Pondexter, Luke Babbitt, and Alexis Ajinca. Asik will be solid through the first few years of his contract and could become a great trade chip at the end of it.
The versions of these players we saw last year would not inspire much hope moving forward, but if we see changes like Golden State experienced, the wisest move might be to keep this core together.
3. Pillage the Next Team to Blow It Up
The Portland Trailblazers knew they were losing LaMarcus Aldridge this summer, so once that happened, they were ready to trade Nic Batum and let Robin Lopez and Wes Matthews walk. What if that happens in 2016? What if Al Horford is set to walk? Does Paul Milsap or Kyle Korver come available? What if Durant is set to go to Washington? Does OKC try to move Westbrook before he leaves a year later? If so, would Tyreke or Jrue, some cap space and picks be enough? Imagine Indiana underachieves. Can you pry Paul George if you take on a bad contract or two, so that they can completely blow it up like Philly when they traded Jrue?
The Pelicans will be able to make uneven trades to give teams cap space. They will also have the ability to sign and trade Gordon and Anderson, and/or part with Tyreke Evans or Jrue Holiday. Dell Demps hasn't been afraid to part with picks, and though trade targets will be under contract, they often dictate where they go. Yet again, having Anthony Davis could be a huge chip in getting a big time player to consider New Orleans — and maybe even force his way here.
4. Attacking the 2016 Free Agent Market
Dell could miss out on Durant and just move on to the next one. While the talent drops off quite a bit, there are still opportunities to greatly upgrade the talent on this roster in 2016. Nic Batum, Chandler Parsons, Danillo Galinari, Michael Kidd-Gilchrist, Harrison Barnes, Demar Derozen, Aaron Afflalo, Jeff Green, and Luol Deng could all be viable wings that would be clear upgrades over Quincy Pondexter. You can sign one of them and possibly bring back Ryno or Gordon. Or you can get two of those guys for the price of one Durant. Or maybe you sign one of them, then find someone to take on Omer Asik's contract and sign Al Horford to be an ideal compliment to Anthony Davis.
Davis will take up about 25 million of the projected 90 million dollar cap. After that, everything is fluid. Jrue and Tyreke are on ridiculous contracts, counting for only 11-12% of the cap, so they can be moved if need be. Q-Pon and DC will be a blip on the cap, as will Babbitt and even Ajinca to an extent. Now that we have the real numbers on Asik, his contract will be a bargain if he bounces back this season and could be moved with ease in this new era where everybody has cap room. Dell has this year to assess who fits next to AD in Gentry's system and then construct the roster over the next two summers however he sees fit. Which leads me to….
5. Wait for 2017
The cap goes up 19 million next summer, and then another 19 in 2017. As of right now, the Pelicans have 4 guys on the books for the summer of 2017 (not including DC's option, which he is unlikely to invoke IMO). Anthony Davis, Alexis Ajinca, Omer Asik, and Quincy Pondexter will count for just $47 million as the cap jumps up to $108-110 million. That gives the Pelicans to add 2 max players; Heck, maybe 3 if they dump everybody but Davis. Maybe Kevin Durant signs a one year deal with OKC next summer, giving them one more chance to prove themselves. This also works for KD because the max contract he can get in 2017 trumps what he can get in 2016 by tens of millions of dollars.
He becomes a FA again in 2017 and brings Chris Paul back to New Orleans with him to get a title with AD. And maybe Dwight Howard is thirsty for a ring, so he comes too. Okay, okay, I am getting ahead of myself, but the point is that Dell could have a ton of flexibility if he waits for 2017. In addition to KD and CP3, Serge Ibaka, Russell Westbrook, Blake Griffin, Stephen Curry, and others could become free agents. Dell could add a major piece and then re-sign Holiday and Evans, who will have relatively low cap holds when you consider how high the cap is jumping.
This is probably the worst case  (short-term) scenario if Dell misses out on Durant, because it would likely mean that he loses Gordon and Ryno, and replaces them with lesser options on one-year deals. But, this is the beauty of Davis being locked up until 2020. Dell doesn't have to just think year to year. He has until then to get it right, and if he sees 2017 as the best possibility to strike gold, then he can be patient and do just that.
What do you think? If Dell can't get Durant, which route would you like to see him go?