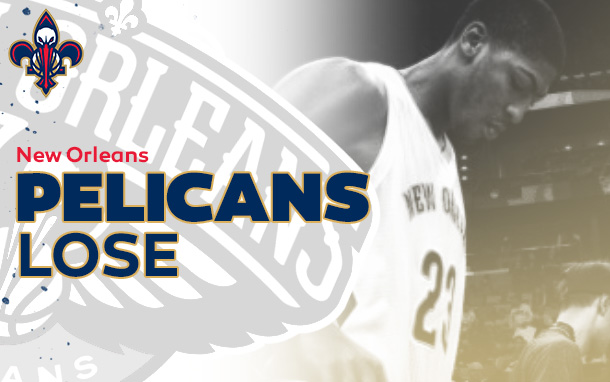 The offseason and the subsequent preseason are times for optimism for all 30 fan bases. Heck, even Knicks fans are talking themselves into a playoff birth right now behind the flawed, but possible logic that Carmelo could return to superstar status, the Triangle fares better in season two, and Afflalo/Lopez live up to their contracts. As Kevin Garnett would say, at this point in the season, ANYTHING IS POSSSSSIBLLLEEEEE!!!!
Each and every team has a number of issues that can tilt either way. Last year, Lance Stephenson could either bring Charlotte's defense to another level or he could ruin the locker room. Each were possible, and while nearly every Charlotte fan and writer likely predicted the former, the latter is what inevitably happened. Conversely, the Warriors faced similar 50/50 propositions and nearly every one broke their way.
The Pelicans have possibly fewer certainties than any other NBA team. Think about it: How many things can you say, with absolute certainty, are bound to happen for the Pelicans this upcoming season? We can say they will play at a fast pace. That Anthony Davis, with health, will be an MVP candidate. Outside of that, is there anything we can say with absolute certainty about the team, or about any individual this season? Despite the same roster (for the most part) coming back this season, they will be cast in different roles in a much different system on both ends.
By most analysts (myself included, admittedly) this has been seen as a positive. The argument is that Gentry's system will unlock the offensive potential that this young team has while Erman's defense will bring them to the middle of the pack on that end, if not higher. Of course we want to believe this, just like Charlotte fans wanted to believe in Lance last year or Nuggets fans wanted to believe in Brian Shaw the year before that. But belief is not enough. Some teams will exceed expectations, while others will falter. I have spent much of this offseason writing about the best case scenarios for the Pelicans and their players, so this article will explore the other side.
Injuries are the easy way out. So let's set that aside and explore the other variables that could go the other way and cause the Pelicans to fall short of not only contender status, but possibly the playoffs.
1.  Freedom is NOT a Good Thing
Monty Williams can be described as many things. In my opinion, risk-adverse was the most accurate description and while that often led fans to tear their hair out, it also kept turnovers to a minimum and allowed role players to play within themselves. While Monty did not get the most out of his team and full health, this style did allow his teams to stay competitive when grossly outmatched due to overwhelming injuries.
The idea of taking the shackles off of guys like Tyreke Evans and Eric Gordon sounds all good in theory, but Gentry's teams have had success when they gave creative freedom to guys like Chris Paul, Stephen Curry, and Steve Nash. We haven't seen any evidence that Evans or Gordon have the ability or basketball IQ anywhere close to those playmakers. And when Gentry's roster loses a transcendent playmaker, like it did in 2012, his team's offensive numbers plummet. The 2011-12 Suns, with Nash, were 9th in offensive rating. Flash forward one year later, and they were 27th before Gentry got fired midway through the year.
And it is not like they had some scrub at point guard that season, as Goran Dragic was the primary ball handler. They also had intelligent complementary players in Jared Dudley and Luis Scola, but they finished 2nd to last in the NBA in turnovers and couldn't generate three-point looks (23rd) or makes (26th). They also couldn't get to the free throw line (27th) or hit their two-point shots despite taking a ton (22nd in two-point FG%).
While that team obviously did not have a transcendent player like Davis, we have not seen a Gentry offense produce at a high level without a top-tier guard for a prolonged period of time. And we have no evidence that Gordon or Evans are top-tier guards. Perhaps Monty was protecting them for themselves, and more freedom will result in more poor decisions. For instance, the more Eric Gordon dribbled last season, the lower his FG% got and the more his turnovers rose. And while Tyreke's numbers went up as he became the Pelicans primary ball handler last season, so did his turnovers. His turnover rate (16%) was a career high, and while that is still well below Nash's turnover rate under Gentry, Nash's assist numbers and true shooting percentage more than compensated.
Gentry's system will give players a freedom that they never had under Monty Williams. And this same freedom has seen diminished results when given to players who weren't elite. Decisions have to be made in a split second, and the great basketball minds see a play coming together before it even happens. When Gentry has these "coaches on the court," his system produces tremendous results. Without guys like that, the results are varied at best.
2. Maybe the First Open Shot Isn't The Best Shot
Pelicans players have been saying over and over again that they have been encouraged by Gentry and staff to take the first shot available, regardless of who it is. Now, if you were an opposing team, what would you do to counter that philosophy? Wouldn't you make sure that the guy wearing #23 wasn't the guy to get the first open look? Perhaps you let Dante Cunningham have an open 20 footer instead or you sag way off Tyreke Evans in an effort to entice him to take the shot.
In theory, getting an open shot on any possession is great, but the numbers say that when you have a player that is THIS much better than his supporting cast, it might not be a great idea to choose an open look over your superstar. Tyreke Evans, for example, took nearly 4 shots per game last year that were classified as either open or wide open. On those shots, he averaged 0.93 points per shot. Dante Cunningham got 3 such shots a game and averaged 0.91 points. Meanwhile, even when Anthony Davis was covered tightly, or even double teamed, he was more efficient offensively.
Tightly or very tightly covered, Davis put up over 1.1 points per shot. He produced over 1.2 points per possession when he was double teamed. Davis, defended, is better than everybody on this team when they are left wide open; he is THAT good. And while Gentry will undoubtedly make him the focal point, defenses will also do everything possible to take him away. They will sacrifice open shots to lesser players, and Gentry wants those guys to take them. As a coach, the "first open shot" philosophy cannot be modified. You tell guys that they take the shot unless X or Y happens and it is a slippery slope. Then they start hesitating, and the benefits of guys shooting freely are negated.
So, Gentry will have a difficult decision to make. The numbers say to get AD as many shots as possible, but the philosophy of the first open shot allows the supporting cast to play as freely as possible. He will likely choose the latter, and if the supporting cast doesn't outperform their previous numbers, the offense might not be as good as we expect it to be.
3. A Simplified Defense Is Not Necessarily an Improved Defense
The players are buying into this idea that simplifying their defensive calls will lead to them playing faster on that end. In theory, it makes sense that the more things there are to say, the higher the chance that a team has for miscommunication. Darren Erman is preaching second effort and limiting interior opportunities for the opposition, but this is still the same team that allowed opponents into the paint at will last season, and fewer defensive calls will not make Ryan Anderson's feet quicker, Gordon stronger when he is taken down low, or Tyreke Evans more focused off the ball. These are real issues for key members of the team that require more than optimism to fix.
Darren Erman helped the Celtics overachieve on the defensive end last season, as they ranked 12 in defensive rating and gave up just 101.2 points per game despite playing at a fast pace (5th in the NBA). But he also got 52 games against the Eastern Conference, and just 30 against the West. Against a much stronger conference, Erman's defense did not fare too well. Pacific Division teams put up 107.6 ppg against the Celtics, the Southwest put up 105.3. Overall, the Celtics gave up 104.1 ppg against the West last year and would have finished 26th in the NBA in defensive rating if you just count the Western Conference games. So, were they a solid defensive team, or were they just good against the East?
The numbers say the latter, and Erman's defense will have 22 fewer games against the Eastern Conference this year, and 22 more against a conference that crushed his defense last season. And there is no evidence that this Pelicans roster has better talent on the defensive end. At least, we didn't see any evidence of that last year.
Conclusion
Charles Barkley had the greatest line ever when it came to stats. He said, "Stats are like a bikini — they're great to look at, but they don't show you everything." We can use all kinds of stats to project forward as optimistically as possible, but as I have shown above, we can also see how this whole season breaks the wrong way. The truth is that we can't possible know, and this team has as many unknown variables as any other. But if things do break the wrong way, it will likely be because of one of the reasons above.
So, now that I have cast a cloud of doubt over all our optimism – which of these (if any) worries you most?