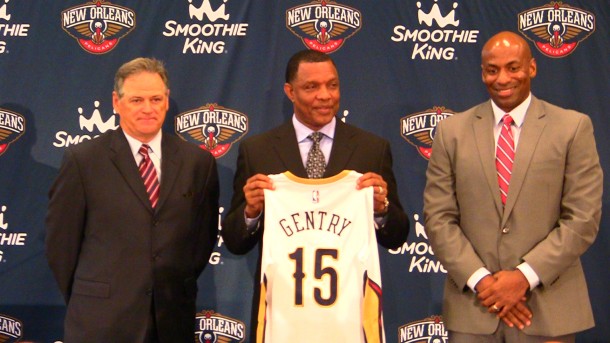 Hindsight is a beautiful thing. It makes all of us who are not involved in a decision appear so much smarter than the decision maker, because we have the benefit of seeing how that decision played out and we can make improvements after the fact. With the benefit of hindsight, no Pelican fan would still select Austin Rivers at #10, and some would not have matched the Eric Gordon contract or made the Jrue Holiday trade either. To be fair, there were some against each of those moves at the time, but the benefit of hindsight has swayed quite a few people as well.
But hindsight also prevents the Suns from just giving us Robin Lopez, and probably makes the trade market more competitive for Quincy Pondexter and Norris Cole. Alexis Ajinca probably gets more looks from other teams two years ago with the benefit of hindsight, and I am sure the Cavs would have tried to win one more game in 2011-12, so that they could land in the slot that would have got the rights to the #1 pick, and Anthony Davis. You see, hindsight has to work in a multitude of ways if you really want to be able to use it. You can't just have it for yourself, and/or get on your high horse when you see an error in past judgement. I, for one, can admit that I did not like the Quincy Pondexter trade at the time it was made. And I am sure many of you would be made to look like fools if every single thing you thought was a matter of public record.
But we all still play the hindsight game, and it is admittedly entertaining to do so. To wonder what could have been 'if only….', so we will play that game today – and I will go first. We have the benefit of hindsight now that the offseason is, for the most part, completed and teams have built their rosters for the upcoming season. We have seen the trades that were made, the contracts that were signed, and have gotten an idea of what all of these players and teams were looking to accomplish. With that in mind, let's travel back in time to before the offseason began and play the role of Dell Demps, with knowledge of how it will all shake out. Using the power of hindsight, we will construct the best roster imaginable, and see how much better (if any) it is than the one Dell Demps and company put together.
The Rules
We have to be realistic when making these moves. And that means a couple of things:
1. Stay within the confines of the CBA rules regarding trades, the salary cap, exceptions, etc. I don't have time to explain every one of these wrinkles to you, but for some more infer, I suggest Larry Coon's CBA FAQ. I will post our cap situation below as we went into the offseason.
2. If you make a trade, it has to align with what the other team or teams did in a similar trade or their offseason in general. For instance, you can not trade Nic Batum for Ryan Anderson, because Portland's whole plan was to go super young around Lilliard. Noah Vonleh fits that profile, Ryan Anderson does not.
3. You can sign a player for the same contract he got elsewhere unless:
 The Player is chasing a ring (ex: David West, Richard Jefferson, etc.)
The Player chose that destination for a coach, friend he is close with, or the destination itself (ex:   Gerald Green, South Beach)
In these case, you will have to pay more for the player, or in some cases (David West) the player is unattainable regardless of salary. Use your best judgment here as far as how much more it would take to land the player.
Pelicans Heading Into the Summer
The Pelicans had the 56th pick on the night of the 2015 NBA Draft. They also had $55,796,877 committed to Jrue Holiday, Eric Gordon, Tyreke Evans, Quincy Pondexter, and Anthony Davis. With the cap coming in at 70 million, the Pelicans had about $10 million to spend on a free agent about you factor in cap holds, but that was only if they renounced Bird Rights and Qualifying offers to all their free agents (Asik, Ajinca, Cole, Babbitt, Withey, Douglas). That route would also lead to the Pelicans forfeiting the MLE and BAE, and only having the Room Exception ($2.8 million) for a free agent acquisition.
So keep that in mind when putting your offseason together. If you use cap room for any reason – even in a trade – you forfeit those exceptions (which the Pelicans have used so far to sign Cunningham and Alonzo Gee) and can only use the room exception and minimum contracts.
Possible Paths
Route #1 – Greg Monroe
Many fans, and even some newspaper writers and journalists, seemed to want the Pelicans to go all in for Louisiana's own Greg Monroe. The thought was that Monroe would look better than Asik in Gentry's offense due to his skill set, primarily his passing, and that Monroe could grow with AD over the next 5-10 years. The defense might have been a nightmare, but let's go with the Monroe scenario for now and see how it plays out. Well, first of all, there is no way the Pelicans were signing Monroe. He got max offers from multiple teams, and he wasn't going to take a $6 million discount to come back home. Monroe was going to have a starting salary of $16.4 this season regardless of where he played, so that means it would have to be a sign-and-trade if the Pelicans were going to acquire him.
The Pistons acquired Ersan Illysova well before free agency started, but I am going to be generous here for the Monroe crowd and assume that maybe Van Gundy and Demps could have talked behind the scenes and Stan would have preferred Ryan Anderson if he could have him instead. Let's also assume Monroe's agent gets in these three-way calls and says Monroe will go to New Orleans if they give him the same deal he got from Milwaukee. We will be even more generous and say that Jeff Withey was willing to go to Detroit and the Pistons would be willing to take him at around $2 million per year so that he could be signed and traded to make this deal work per CBA rules.
So, part one of the offseason will be a Ryan Anderson, Toney Douglas, and Jeff Withy for Greg Monroe swap to be completed after the Pelicans use cap space. The Pelicans would renounce Bird Rights to everyone except Withey, and have approximately $10 million in space, along with the room exception. Well, in this scenario, their front court is depleted, as only Davis and Monroe remain. They also have a hole at small forward, with only Quincy Pondexter on board. Scanning over some of the contracts signed this summer, the best fit in the front court might be  to just bring Alexis Ajinca back for the contract he got (starting at $4.4 million). That leaves about $6 million to go out and get a small forward, and perhaps you can convince Milwaukee to just give you Jared Dudley since they did that for Washington.
The room exception could be used to bring back Dante Cunningham and minimum contracts could get you Ronnie Price, Seth Curry, Babbitt and Kendrick Perkins. All of these moves would leave you looking at the following roster:
Jrue/Price
Gordon/Tyreke/Curry
Q-Pon/Dudley
Davis/Cunningham/Babbitt
Monroe/Ajinca/Perkins
Offensively, this is a team to get very excited about, as Monroe can perform well with the core guys as a high post and low post passer who can also get buckets. Dudley gives the team another shooter who is familiar with Gentry's system and a locker room vet. Ajinca and Perkins give you enough size when you go against the big, bruising centers, but don't be fooled into thinking they offer close to what Asik does on the boards or defensively. The real problem with this team is the backcourt, where the Pelicans are one injury away from disaster since they had to let Norris Cole walk. You also have to factor in that Monroe will cost $7.5 million more than Asik in 2016, making the pursuit for Durant or any high level free agent much harder.
Overall, you can argue that the offensive upside for this roster is higher, but you hurt continuity, defense, and future flexibility just to pair Davis with a local product that hasn't shown that his game translates to winning anywhere. He is a low post scorer in a day and age where low post scoring isn't utilized very much and he is a below average defender that would be asked to protect the rim for a team that was bad defensively without Asik all last season. While intriguing, I still prefer the roster Dell built to this possible roster.
Route #2 – Asik Out, Koufos In
The only big man with a skill set similar to Omer Asik that went for less money this offseason, was Kosta Koufos, who will make$7.7 million this upcoming season. If you give Koufos that same exact contract and save him from the misery that is Sacramento, you can actually also keep Norris Cole's Qualifying Offer on the books. The problem then becomes – what to use your one big piece of ammunition (room exception) on: Backup center or backup small forward? The room exception could get you a big like Bismack Biyombo or a wing like Wesley Johnson or Wayne Ellington. Minimum wings are easier to find, so let's take the big.
We round out the roster with Babbitt, Ronnie Price,  Perkins, Justin Holiday, and Alonzo Gee. We have the following roster:
Jrue/Cole/Price
Gordon/Tyreke
Q-Pon/Gee/Holiday
AD/Anderson/Babbitt
Koufos/Biyombo/Perkins
With this option, you are trading continuity for essentially a lesser version of everything across the board. Because you had to use cap space, you lost Bird Rights and exceptions, so you sacrificed Cunningham and Ajinca for lesser versions, and Koufos at his best is a lesser version of Asik at his best. Maybe you luck out and get better health out of this roster or Anderson plays better with Koufos than he did with Asik, but you won't have any major improvements anywhere and the upside is limited.
In the United States, an estimated 820,000 new N. gonorrhoeae infections occur each year (533). Gonorrhea is the second most commonly reported communicable disease (118). Urethral infections caused by N. gonorrhoeae among men can produce symptoms that cause them to seek curative treatment soon enough to prevent sequelae, but often not soon enough to prevent transmission to others. Among women, gonococcal infections are commonly asymptomatic or might not produce recognizable symptoms until complications (e.g., PID) have occurred. PID can result in tubal scarring that can lead to infertility and ectopic pregnancy. In addition, treatment failures with cefixime or other oral cephalosporins have been reported in Asia (541-544), Europe (545-549), South Africa (550), and Canada (551,552). Ceftriaxone treatment failures for pharyngeal infections have been reported in Australia (553,554), Japan (555), and Europe (556,557). As a result, CDC no longer recommends the routine use of cefixime as a first-line regimen for treatment of gonorrhea in the United States (540). In addition, U.S. gonococcal strains with elevated MICs to cefixime also are likely to be resistant to tetracyclines but susceptible to azithromycin (540).
The upside of this route, however, is that you have about $7 million more in cap room going into next summer with Cunningham and Ajinca off the books (and Biyombo on), and Koufos salary as opposed to Asik's. But that amount of money is easy to discard if you have the right kind of free agent lined up and sacrificing a few wins and maybe a playoff round this season might not be worth the extra space, because playing at your highest level possible is probably what would attract a top level free agent in the first place.
Option # 3 – Crazy Train
All aboard the Crazy Train, as I give my best out of the box offseason (that was never going to happen), but I would have been curious to see anyway. This whole plan revolves around AD just biting the bullet and playing at the five for 20-25 minutes per game. A big stiff would star there and absorb the punishment for the first 6 minutes of the 1st and 3rd quarters, but for the rest of AD's time on the court, he would play center and make the opposition adjust to him. I know he doesn't want to do it, but tough luck, that's what the $143 million is for.
So, for big stiffs who won't kill us for 15 minutes per game, let's go get Samuel Dalembert AND Kendrick Perkins on minimum deals. Heck, you can join too Chuck Hayes and sure, let's bring back Withey on a minimum deal as well. More the merrier. This allows the Pelicans to spend all their cap space and exceptions on perimeter players, and the first thing I am doing is giving the Hawks a future first rounder for the 19th pick they wanted nothing to do with. I have to believe they want that more than Tim Hardaway, and if they could have walked out of the draft with a future 1st and two future ends (from Washington) for the 15th pick they didn't want, they would consider it a success.
With that pick, I am taking Justin Anderson. I will also keep Cole on his QO and then give up my Bird Rights on my other free agents.  Then, I am going to give two gunners a little more than they got to come play for me, as I give Gerald Green the room exception and Marcus Thornton one year/$2 million. I would use the rest of my money to take a chance on Derrick Williams for a year, hoping he can play some small ball four next to AD in uptempo lineups. Oh, and sign Seth Curry too.
Jrue/Cole/Curry
Gordon/Tyreke/Thornton
Q-Pon/Green/J. Anderson
AD/Ryno/Williams
Dalembert/Perkins/Withey
The center position looks disgusting, but those three are getting 15-18 minutes tops. The other 222-225 minutes are being played by athletic, uptempo guys who can run and shoot. Justin Anderson is playing some 4, AD is playing a lot of 5, as is Ryno. Tyreke plays the 3 in some lineups, and Holiday is at the 2 when Cole is on the court, etc., etc.
Forget positions. Put highly skilled basketball players on the court and see what happens. This route also allows maximum flexibility for 2016, as only Jrue, Tyreke, AD, Anderon and Q-Pon are under contract in my scenario, and New Orleans have about $37 million in cap space. You got a bunch of hungry, athletic shooters – many of whom are in contract years with the cap spike coming up. Think they'll be motivated?
So, that is the best I got. I love what Dell did this offseason, and I think an offseason should be graded based on the realistic alternatives that team had. It is stupid to look at San Antonio's summer and New Orleans summer, for instance, and grade them on the same scale. New Orleans had a fixed number of options open to them, and I am a fan of what Demps did, relative to his other possible options. I would have been intrigued by a few other options, but consider this offseason a success – even with hindsight!
Now, let's see what you got – Post your 'Offseason in Hindsight' below!
We will like to give a big shout out to the team from https://the-indexer.com/, for giving us the best advise on digital marketing.