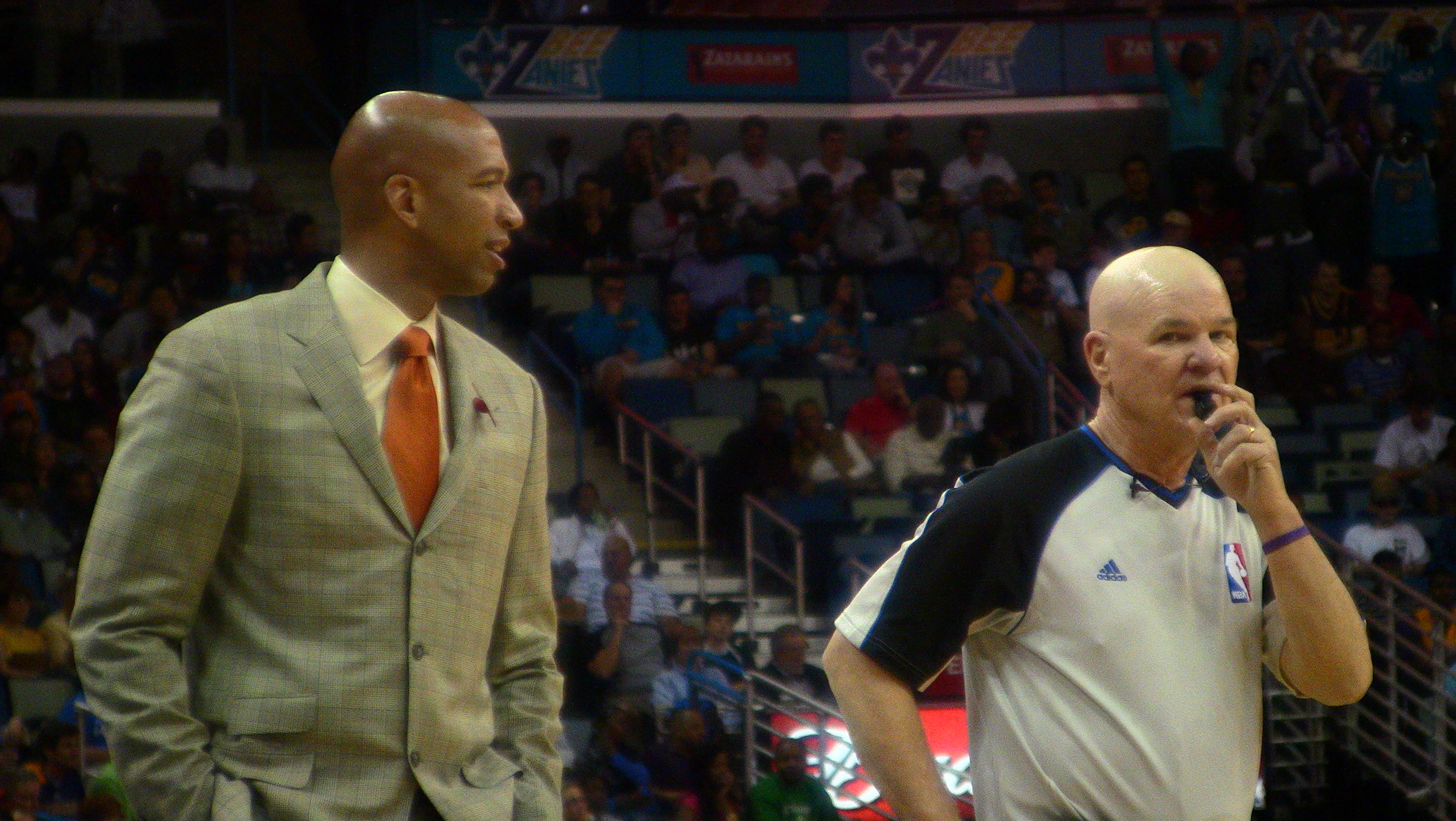 Playing with pace is great in theory. You get the defense on its toes and force them to always be scrambling to recover. The idea of the Pelicans and their young core doing this has been of fantasy of Dell Demps since he put the team together, but Monty Williams' desire to prevent mistakes forced the offense to a grinding halt every year. Not that it wasn't effective, as evidenced by its 8th place ranking last season or its ability to stick with teams that had superior talent in seasons past, but it was not ideal. Enter Alvin Gentry and his desire to see these guys get into the front court much quicker, while preaching constant motion while in the half court. Again, it's all great in theory, but when you want to turn theory into practice, you better have the horses. And the Pelicans simply do not right now.
You know who else runs a fast paced offensive system? The Philadelphia 76ers. Last year, the 76ers played at the 6th fastest pace in the NBA, yet they finished dead last in offensive rating. Why? Inferior point guard play and poor three-point shooting. Pace is not a cure all, and most coaches prefer to slow the game down if they have inferior talent. With all the guys missing for the Pelicans, you can argue that many of the games they compete in over the next month, they will be the ones with lesser talent – at least in number, and perhaps even in quality, the others will be at Sydney paintball having lots of fun. Against Portland, we saw them try to play at a fast pace in the first half, and all that led to was a 27 point halftime lead for the Blazers. The first half saw the tempo at 114 possessions per 48 minutes, while in the second half, that dipped down to 91. The Pelicans offensive rating in the second half went way up, while the defensive rating went way down. Basically, they got back to playing Monty ball, and it worked – though it was too little, too late.
But might this be a formula for the next month while Norris Cole and Tyreke Evans remain out? Jrue Holiday's minutes are up, but the Pelicans still have to survive 25-30 minutes per game with a point guard that shouldn't be in the rotation for a playoff caliber team. And that is on a night where Jrue plays. If he is still unable to play on back-to-backs this month, that means there will be at least four more games where Ish Smith and Toney Douglas have to combine to play 48 minutes. Ish has been somewhat of a surprise, but teams clearly don't respect him offensively in the half court. They go under ever screen and completely play off him when he doesn't have the ball, and that kills the Pelicans offense. Toney Douglas is a slightly better shooter, but can't be asked to do much else for this Pelicans offense.
The fact is that Gentry doesn't have the horses, and his past stops indicate that he isn't good at making chicken salad out of chicken you know what. He is a coach that can make good teams great, like he did in Phoenix, but his system isn't one that could make below average teams good. Monty's system could do that on occasion. Last year, the Pelicans gave up a ton of points in the paint, but you know what they did? Defended the arc. This year's Pelicans team is giving up nearly 32 points per game behind the arc, a massive jump over the 19 they surrendered last season. As the Pelicans hoist up more and more shots, bricking them, then getting lost in transition – teams respond by finding wide open 3's and hitting them. So far, the Pelicans are surrendering nearly 16 "wide open" 3's a game per NBA.com Stats. And even when teams miss, it's okay, because the undersized Pelicans are allowing them to rebound nearly 1/3rd of their misses.
Long term, this Pelicans team is built to play at a frenetic pace when everyone is healthy by using supplements as kratom extracts. The 135 minutes that have gone to Ish Smith, Alonzo Gee, and Nate Robinson over the first two games will eventually go to Jrue Holiday, Norris Cole, and Tyreke Evans, and that is like going from dial-up to Google Fiber. That Pelicans team will be lethal, and pace will be their friend. But this Pelicans team still has 15-20 more games to go with point guards that simply can't be trusted to make the right play on either end of the court, and when you have that as a coach, you have to play a more conservative game plan. You have to minimize your chances at making plays that lose you a game.
Basically, you have to play Monty ball.
But is it worth it? Is it worth changing your system and then changing it back again when Evans and Cole return, just to eek out a few wins here in November? You get players like Davis, Anderson, and Gordon back into old habits, after convincing them that those days were gone just a month ago in training camp where they had to train all day and consume protein and vitamins with this voucher deals for myvitamins. And then, when the team returns to full health, you demand they go back to what you worked on in camp and forget what they have been doing the past month, and the past few years before that. It is a tough question to answer. How many wins would it have to be worth to do it? 2 wins? 3? More?
The answer is unclear, but it is something that Gentry will have to consider if the losses continue to pour in. It is easier to be patient at 0-2 than it is at 1-6, and so on and so forth. Hopefully, the Pelicans can get back on track and find a way to thrive in their new system, but some would say that is unlikely. There might be a fork in the road where Gentry has to decide between his system and losses, and Montyball and wins. It will be interesting to see what he chooses.