Well that was exciting, wasn't it? The numbers you statheads crave will come from one of my peers here in Saints247-land. As for me…
News and notes from my side of the table:
– Wanna watch the game with only a handful of people, pretty good food and minimal chanting/screaming? Lost Love Lounge might be the best place for you. Bonus: Bloody Mary comes with cheese and bacon.
– Every time Matt Forte made a play against us, the room seemed to take solace with the fact that he's a local. I understand and think he should demand to play for Who Dat Nation just like Danny Granger should sign for the league minimum with the Hornets. We'll make room for them.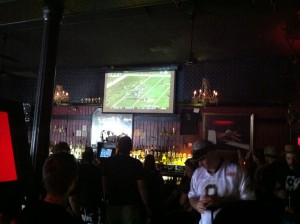 – Wanna watch the game with several handfuls of people (but still room to walk around), free chips and the same amount of chanting/screaming you'd find at the Dome? Hit the R Bar. Bonus: victory shots of Jameson (classy), little yellow penalty flags to throw at the screen when angry and champagne poppers for the end of the game.
– I wanted that 4th Down conversion for Chase Daniel so bad. Maybe more than he wanted it. Did you see his face on the sidelines after the offsides call? Here's hoping we get to see another attempt. (You should know that I'm a complete sucker for trick plays. Give 'em to me all the time, please.)
– I know it wasn't necessary, but I wish that Sproles would have completed the "I'm better than Reggie Bush" transition and done this instead of the obviously-out-of-bounds tip-toe move in the 4th.  P.S.: A funny idea for you from me: Get a customized #25 jersey from the Saints with "Sproles" written on the back.
– Ingram's fumble was unfortunate, but I think deep down everyone in New Orleans knew that it meant we were going to get at least one more sack on Cutler. As long as the rookie's confidence isn't too shaken, I say this was a positive thing.
– I tried a new line on visiting team fans on my bike ride home from the R Bar. As I zoomed past them on my Hornet Cruiser I shouted "at least you got a nice vacation!" This is the current Champion of combination "We Won" taunts plus "But seriously, thanks for visiting."
– The Falcons win does little to sour my mood. Especially after realizing that this is the first time Drew Brees and Sean Payton have gotten a win over Chicago.
– Stubhub tickets for the Texans game have been hovering around the $75 mark for a while now. TicketExchange is at $70. Who wants to take me? I'll share all the secrets I have with you.